There is a proliferation of information out there about the best ways to style your home and an array of design trends to choose from.
But how do you know which option is right for you?
Ask yourself the questions below to discover which interior design trend best suits your personality.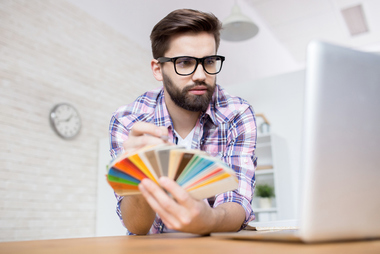 Modern
Do you detest clutter?
Do you love simplicity?
Would you use the word "sleek" to describe your style?
If this list sounds like you, then your interior design type is modern. A modern aesthetic makes use of clean lines, neutral colors like gray, black and white, and minimalist furniture. Many modern homes use an open concept design in which spaces flow into one another instead of sectioning off each area with walls. You will also see the use of materials such as glass and metal in modern homes.
Traditional
Do you value European influence?
Are you a fan of dark wood?
Love ornate items?
If you answered yes to any of these questions, then you are a traditionalist when it comes to home design. Unlike modern, traditional goes overboard when it comes to design. This aesthetic features layered textures and textiles, framed paintings, vases and lots of decor. Curtains are on the heavier side, perhaps featuring tassels — anything that adds detail. There is also an abundance of rich, dark wood, however always finished. No raw edges.
Coastal
Are you drawn to the ocean?
Love light and airy colors?
Fan of seashells?
Your style is coastal if this list checks off all your boxes. The coastal interior design trend takes inspiration from none other than U.S. East Coast beaches. This style invites freshness with a color palette of mostly whites accented by blues or sea greens. Large windows are a must to invite sunshine in and pay homage to the scenery. Accessories and decor feature items inspired by long days at the beach, such as seashells and sailboats. Most of the furniture is white or a light neutral with pillows in accenting tones.
Rustic
Have a thing for unfinished wood?
Prefer natural over ornate?
Love a good Mason jar?
If this list sounds familiar, your home design style is rustic. Homes in this style feature lots of raw wood and stone. Decor stays natural with textiles like burlap and wool. The rustic aesthetic has a flair for DIY too. If you're crafty, you can make all sorts of items that fit the rustic style, such as Mason jar lights, whitewashed furniture and handmade candles. Elements from the outdoors round off this style to create an earthy and warm interior.
Scandinavian
Love simplicity in furniture?
Do you dig a neutral color palette?
Think style and substance should go hand in hand?
You fit right into the Scandinavian style if this list sounds like you. Inspired by Nordic countries, Scandinavian design combines art and functionality in furniture. There is a sense that nothing is wasted or superfluous when it comes to items like a chair or a desk. Every design decision is thoughtful. Although the color palette is typically neutral, you can bring in bold accents like a bright blue area rug or orange throw. But the core of the design remains balanced and purposeful.
Want to learn more about the style category you fit into best?
Click our link or give us a call today for more tips on how to decorate your home to sell quickly.